Offer Details
Get 2for1 offers at top attractions when you travel with us
Changing of the Guard Walking Tour in London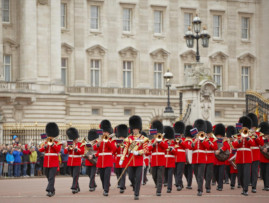 **Before you book your ticket, check the full Days Out Guide travel advice here**

*To adhere to social distancing measures in place, guests can only pre-book their tickets online to guarantee entry to attractions*

*Advance bookings only - All tours must be booked in advance and are subject to availability. Please book your 2FOR1 advanced tickets via 'BUY ONLINE'*

Get up close to one of the best events in London – the Changing of the Guard at Buckingham Palace! The Changing of the Guard at Buckingham Palace is the changeover of the Queen's guard and, on this London walking tour, you'll stand in the best spots to watch the Changing of the Guard ceremony, march alongside the Buckingham Palace guards and get the best Changing of the Guard photos!

Along the way your local London tour guide will explain each step of the Changing of the Guard ceremony process as you watch the Queen's Foot Guards, the Household Cavalry and the Regimental Musical Bands march towards Buckingham Palace in one of the most inspiring and traditional British events in all its pomp and pageantry.
With a small group you'll also learn about key London tourist attractions near Buckingham Palace including St James's Palace and Clarence House as well as visiting the heartland of British Royalty and Government in Parliament Square where you'll see and learn about Big Ben, Westminster Abbey and the Houses of Parliament.

The Changing of the Guard offers some of the best London sightseeing opportunities, with this London walking tour being one of the must-do sightseeing tours in London.