Offer Details
Get 2for1 offers at top attractions when you travel with us
Oxwich Castle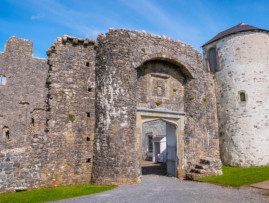 Paper Voucher only

Appearances can be deceptive. Oxwich Castle, towering splendidly above the wide sweep of Oxwich Bay, isn't really a castle at all.
It's a magnificent Tudor manor house built by an ambitious father and son whose mock-military flourishes are all about social climbing rather than defence.
From the moment you walk through the imposing gateway emblazoned with the arms of Sir Rice Mansel, it's clear this was the home of a gentry family looking to be movers and shakers in the prosperous years of the 16th century.

Mae'ch llygaid yn gallu'ch twyllo. Saif Castell Oxwich yn ysblennydd uwchlaw ehangder braf Bae Oxwich, ond nid castell mohono o gwbl.
Maenordy Tuduraidd mawreddog ydyw a adeiladwyd gan dad a mab uchelgeisiol, a'u haddurniadau ffug-milwrol yn ymwneud ag esgyn cymdeithasol yn hytrach nag amddiffyn.
O'r funud y cerddwch chi drwy'r porth urddasol wedi'i addurno ag arfau Syr Rice Mansel, mae'n amlwg mai hwn oedd cartref teulu bonedd a oedd am fod yn ei chanol hi ym mlynyddoedd ffyniannus yr 16eg ganrif.

* From Swansea station take the bus: 45m/50yards, route No 117/118, Swansea-Horton/Rhossili.