Offer Details
Get 2for1 offers at top attractions when you travel with us
St. Davids Bishop's Palace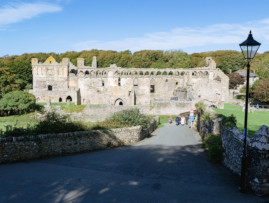 Paper Voucher only

There was only one top job for an ambitious cleric in medieval Wales: Bishop of St Davids in Pembrokeshire.
A 12th-century pope had decreed that two trips to St Davids were equal to one to Rome – turning it into a centre of pilgrimage for the entire Western world. Thousands flocked to see the shrine of St David in the newly built cathedral.
But the bishop's home was no match for this magnificence. Enter Henry de Gower. Between 1328 and 1347 he turned a building only fit for 'servants and animals' into an immense palace.

Dim ond un swydd oedd ar y brig i glerigwr uchelgeisiol yng Nghymru ganoloesol, sef Esgob Tyddewi yn Sir Benfro.
Datganodd pab yn y 12fed ganrif fod dwy daith i Dyddewi gywerth ag un i Rufain – gan droi'r cyntaf yn ganolfan i bererinion o bob rhan o'r byd gorllewinol. Heidiodd pobl yn eu miloedd i weld cysegr Dewi Sant yn y gadeirlan newydd.
Ond ni allai cartref yr esgob gystadlu â'r gwychder hwn. Yna daeth Henry de Gower. Rhwng 1328 a 1347 trodd yntau adeilad nad oedd yn weddus ond i 'weision ac anifeiliaid' yn balas eang.
* From Haverfordwest station take the bus: 250m/270yards, route No 411 Haverfordwest - St Davids/Fishguard. Route no 413 Fishguard - St Davids.