Offer Details
Get 2for1 offers at top attractions when you travel with us
ZSL London Zoo - free adult place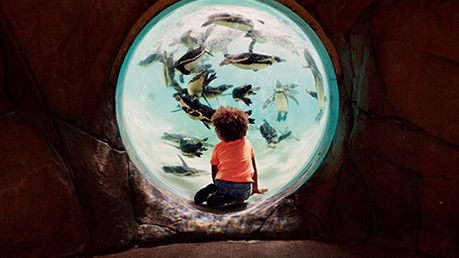 Exclusions apply: 25 December
Advance booking only for free Adult ticket
Please note that prices can vary by date, from £26

Get back to nature in the heart of Regent's Park. We can't wait to welcome you!

Set in leafy Regent's Park amid heritage-listed buildings and beautiful gardens, ZSL London Zoo is an oasis in the heart of the capital with over 20,000 amazing animals to discover.
Visitors will love heading down to the beach to watch our colony of Humboldt penguins dive, swim, frolic and feed in England's largest penguin pool, complete with large underwater viewing windows.

Newly opened in 2021, Tiny Giants is a celebration of all things small but mighty, and the sometimes strange but always wonderful world of invertebrates. Also home to a brand new coral reef tank, this indoor experience is one not to be missed.

Step inside Giants of the Galápagos, the brand new home for our three Galápagos giant tortoises. Enjoy the balmy climate of the Galápagos Archipelago and discover these magnificent reptiles who can live for over a century.

Go on a journey high into the treetops to meet a variety of amazing species at Rainforest Life (London's only living rainforest). Then come face-to-face with one of nature's most awesome predators in Tiger Territory. The Zoo's biggest experience, Land of the Lions, gives visitors the chance to get closer than ever before to the mighty Asiatic lions – of which only 400 remain in the wild.

London Zoo is a fun and inspiring full day out, perfect for all the family.