Offer Details
Get 2for1 offers at top attractions when you travel with us
Tower Bridge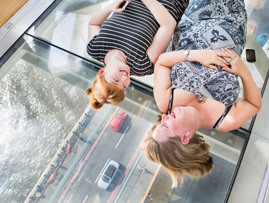 **Before you book your ticket, check the full Days Out Guide travel advice here**

You will be redirected to the Tower Bridge website. Please choose 'National Rail Days Out Guide Tickets' (not standard adult tickets) – the 2FOR1 discount will be applied when you enter the promo code on the next page.

Come fly with me – Half Term family activities at Tower Bridge.
Saturday 24 October – Saturday 31 October (10-4pm in East Walkway).
Discover the death defying exploits of Frank McClean and others who have flown through Tower Bridge and have a go at making your own paper aeroplane to recreate the stunt! Family activities are FREE with admission, drop in and open to children of all ages but are particularly appropriate for those aged 6 to 10.
See inside Tower Bridge and discover the stories behind the engineering, the people, the architecture and the city that built London's defining landmark.

Explore the iconic Towers and Victorian Engine Rooms, watch city life unfold from the high-level Walkways and Glass Floors, and if you're lucky, witness the magic of a Bridge Lift beneath your feet.