Offer Details
Get 2for1 offers at top attractions when you travel with us
Cutty Sark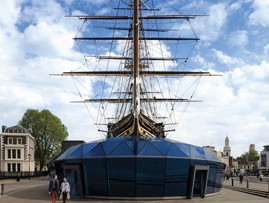 Advance booking only 

Visit Cutty Sark in Greenwich for an action-packed day out on one of the world's most famous ships.

Meet figures from the ship's past like Captain Woodget and the ship's cook and hear their epic stories about life on board the fastest ship of her time. Take the helm at the ship's wheel, visit the crew's quarters, then relax with coffee and a cake at the ship's café.

Cutty Sark is the world's sole surviving tea clipper and now an award-winning visitor attraction.

Trip Advisor feedback:

"A travel unicorn: A historic attraction that appeals to kids. I give it 100%"
"Designed to captivate children and it works: play games, stamp your passport, take quizzes, and climb inside the sailors' berths."
"We were in London for 4 days and Cutty Sark was our highlight. The ship is stunning; the stories and artefacts are enlightening."
"A really top class attraction! One of the best places you can visit in London."
"If you have ever dreamed of a life at sea, here's a ship to stir those feelings! A real slice of our history."
"The most magnificent sailing ship in the world...and (once) the fastest!"
"Wonderful location in the heart of Greenwich, this is a must see."
"A very 21 century attraction and a treat to walk around such a historic vessel. This ship has won a place in my heart."
Stay up-to-date
Subscribe to email updates. Get travel inspiration, journey updates and exclusive offers delivered straight to your inbox.
We will not pass on your personal information to any organisation outside of Gatwick Express.
Should we no longer operate the Gatwick Express franchise, please be aware that we will pass your details to the Successor franchise or Secretary of State for Transport to allow you to continue receiving service and/or marketing emails if you have consented to them.
Subscription confirmed
Thank you for subscribing to receive relevant updates from Gatwick Express.
Subscription Failed
Something went wrong with your submission, please try again later.