Offer Details
Get 2for1 offers at top attractions when you travel with us
Rug Chapel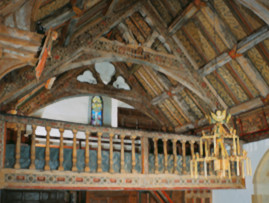 Paper Voucher only

Walk through the beautiful garden of herbs, roses and lavender towards simple stone Rug Chapel with its little arched doorway – and prepare to be amazed.
Inside are wonders out of all proportion to the plain exterior. As your eyes adjust to the atmospheric lighting you'll see fantastic carved animals adorning the walls and benches – scaly dragons, serpents and other strange whimsical monsters.
Above you the magnificent carved roof is painted in a glorious flowing floral design and four cut-out wooden angels guard the scene. Every surface seems to be a riot of colour or extravagant decoration.

Cerddwch drwy'r ardd brydferth o berlysiau, rhosynnau a lafant tuag at Gapel y Rug, capel carreg syml gyda'i ddrws bach bwaog – a pharatowch i gael eich rhyfeddu.
Y tu mewn mae rhyfeddodau sy'n gwbl groes i'r tu allan plaen. Wrth i'ch llygaid addasu i'r golau atmosfferaidd, fe welwch anifeiliaid cerfiedig gwych yn addurno'r waliau a'r meinciau - dreigiau cennog, seirff ac angenfilod mympwyol rhyfedd eraill.
Uwch eich pen mae'r to cerfiedig mawreddog wedi'i beintio â dyluniad blodeuog godidog ac mae pedwar angel pren wedi'u torri allan i warchod y lle. Mae pob arwyneb fel petai'n wledd o liwiau neu addurn afradlon.

* From Wrexham station take the bus: Rug Chapel: Adjacent, route No 94, Wrexham - Barmouth. Llangar Old Parish Church: 2km/1.2mls, service 94 Wrexham - Dolgellau - Barmouth.