Offer Details
Get 2for1 offers at top attractions when you travel with us
The London Dungeon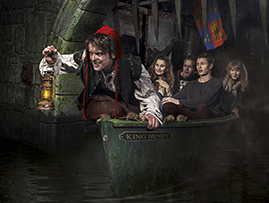 **Please note that from Friday 10 December 2021 it is mandatory for all guests over the age of 11 years old to wear a face covering throughout our indoor attractions unless you are exempt. Find out more here**

**Before you book your ticket, check the full Days Out Guide travel advice here**

*Guests can only pre-book their tickets online to guarantee entry to attractions. We currently cannot offer walk–up on the day vouchers*

*The London Dungeon is open from 10.00-16.00 Friday to Wednesday and 11.00-16.00 on a Thursday.  All times are subject to change. Please check the attraction website before travelling.*

*Exclusions: 14 - 21 February, 4 - 18 April, 30 April - 2 May, 27 May - 5 June 27 July - 31 August, 24 - 31 October and 25 December 2022*

2FOR1 Admission: £30 (Price subject to change)*

Online advanced bookings now available!

The London Dungeon is a uniquely thrilling attraction that will whisk you way back to the capital's most perilous past. See, hear, feel and (ahem!) smell the chillingly amusing characters of the 'bad old days' as they come to life before you.

Step back in time and meet Guy Fawkes, Jack the Ripper, Sweeny Todd plus many more as you explore London's dark history, before recovering over a drink in our Victorian themed Tavern!

Will the 19 live shows and 2 thrilling underground rides claim you? Whichever way, it's not looking good for your underwear!

We continue to have additional hygiene and safety measures in place and we also highly recommend you continue wearing a face covering while inside our attractions.

Image Credit: Press Association

For full Merlin T&Cs please check here.