Offer Details
Get 2for1 offers at top attractions when you travel with us
Plas Mawr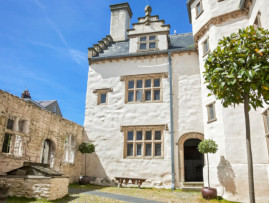 Paper Voucher only

Never was a building better named. Plas Mawr, or the Great Hall, is quite simply the finest surviving Elizabethan town house anywhere in Britain.
This was a golden age when fabulously wealthy merchants invested in mansions, rich fittings and lavish entertaining. Robert Wynn, third son of a local landowner, wanted a piece of the action.
He entered the service of Tudor diplomats and travelled to the most splendid royal courts of Europe. His fortune made, he bought a mansion house in Conwy for £200 and between 1576 and 1585 turned it into a celebration of his life, times and wealth.

Ni fu erioed gwell enw ar adeilad. Yn anad dim, Plas Mawr yw'r tŷ tref Elisabethaidd ceinaf sydd wedi goroesi yn unrhyw le ym Mhrydain.
Roedd hon yn oes aur, a masnachwyr cyfoethog dros ben yn buddsoddi mewn plastai, gosodiadau drud ac adloniant moethus. Roedd Robert Wynn, trydydd mab tirfeddiannwr lleol, am gael rhan yn hyn oll.
Daeth i wasanaethu diplomyddion Tuduraidd a theithio i lysoedd brenhinol mwyaf ysblennydd Ewrop. Wedi gwneud ei ffortiwn, prynodd blasty yng Nghonwy am £200 a rhwng 1576 a 1585 bu wrthi'n ei droi'n ddathliad o'i fywyd, yr oes a chyfoeth.