Offer Details
Get 2for1 offers at top attractions when you travel with us
Castell Coch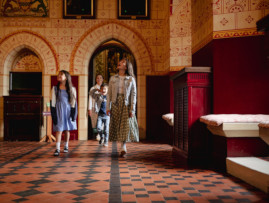 Paper Voucher only

What happens when a patron of unlimited wealth meets an architect of boundless imagination? Here's your answer.
Castell Coch, or the 'Red Castle', rises up from the ancient beech woods of Fforest Fawr like a vision from a fairy tale. Yet these great towers with their unmistakable conical roofs only hint at the splendour within.
Given free rein by the third Marquess of Bute, architect William Burges didn't hold back. The highly decorated interiors and rich furnishings of Castell Coch make it a dazzling masterpiece of the High Victorian era.

Beth sy'n digwydd pan fydd noddwr o gyfoeth diderfyn yn cwrdd â phensaer â dychymyg di-ben-draw? Dyma eich ateb.
Cwyd Castell Coch o goedwigoedd ffawydd hynafol Fforest Fawr fel gweledigaeth o stori dylwyth teg. Ond eto i gyd, dim ond awgrymu'r ysblander y tu mewn y mae'r tyrau mawrion hyn gyda'u toeau conigol unigryw.
A thrydydd Ardalydd Bute wedi rhoi tragwyddol heol i'w ddychymyg, ni ymatalodd y pensaer William Burges o gwbl. Mae'r tu mewn tra addurnedig a dodrefn drudfawr Castell Coch yn ei wneud yn gampwaith disglair o'r oes Fictoraidd Uchel.


* From Taffs Well station take the bus - 1km/0.6mls Tongwynlais, route No 26, Cardiff-Tongwynlais /Tredegar or route No 132 Cardiff-Tongwynlais-Mardy.