Offer Details
Get 2for1 offers at top attractions when you travel with us
Secret London Walking Tour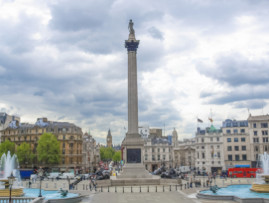 Advance booking only
Discover the best secrets of London on this fun London walking tour! Join your local tour guide as you get up close and explore a side of London you've never seen before!

You'll discover the luxury of Backwards Roads, the incredible history behind an Abandoned Tube Station and see if you can spot London's Smallest Police Station hiding in plain sight!

You'll meet a Talking Cat, visit the only remaining house of Benjamin Franklin, discover Famous Lions and find the true Centre of London as well as get your photo at the replica to 10 Downing Street.

With many of London's best secrets included, this unique London walking tour will introduce you to a whole new way of sightseeing in London - you'll never see London the same way again!

Meeting point: The closest National Rail station is Blackfriars Station although the tour is accessible via any National Rail station in London. Upon arriving in London please make your way to St Paul's Station (Exit 2). On arrival please meet your tour guide holding the yellow umbrella.
Stay up-to-date
Subscribe to email updates. Get travel inspiration, journey updates and exclusive offers delivered straight to your inbox.
We will not pass on your personal information to any organisation outside of Gatwick Express.
Should we no longer operate the Gatwick Express franchise, please be aware that we will pass your details to the Successor franchise or Secretary of State for Transport to allow you to continue receiving service and/or marketing emails if you have consented to them.
Subscription confirmed
Thank you for subscribing to receive relevant updates from Gatwick Express.
Subscription Failed
Something went wrong with your submission, please try again later.