Offer Details
Get 2for1 offers at top attractions when you travel with us
The Photographers Gallery -A Brief Revolution: photography, architecture and social space in the Manplan project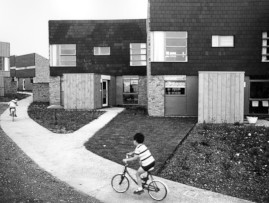 Printed paper Voucher Required
Exhibition dates 3 March - 11 June 2023 
In 1969 and 1970 a revolution took place in the pages of Architectural Review.
An ambitious survey of architecture and town planning in late 1960s Britain, called Manplan, used photographic work by leading photojournalists and street photographers to powerfully articulate the theme of each issue.

Although photography had been integral to Architectural Review since the 1930s, the images that defined Manplan were like nothing that had been seen in the magazine before. The dramatic black and white images, shot on a 35mm camera with a spirit of photo-reportage, created a strong visual statement to support the text of each edition, with themes such as 'Religion', 'Health and welfare', 'Frustration' and 'Education'.
Unusually for the time, people were shown front and centre in the built environment – shifting the focus away from the architecture itself to the way people lived and used the social spaces being studied.

Over eight issues of Architectural Review, the overall message of Manplan was powerful, uncompromising and highly critical of contemporary living conditions. Many of the themes highlighted by the series are still relevant today.
A Brief Revolution features work by photographers Ian Berry, Patrick Ward, Tim Street-Porter and Tony Ray-Jones, and the words and designs of Manplan editor Tim Rock and designers Michael Reid and Peter Baistow.